Zaru Soba (Cold Soba Noodles) ざるそば
What do you usually eat in your country when it's hot and you have no appetite? In Japan, during the unbearable hot and humid summer, classic cold Japanese noodle,
Zaru Soba
(ざるそば) is the perfect dish to cool down!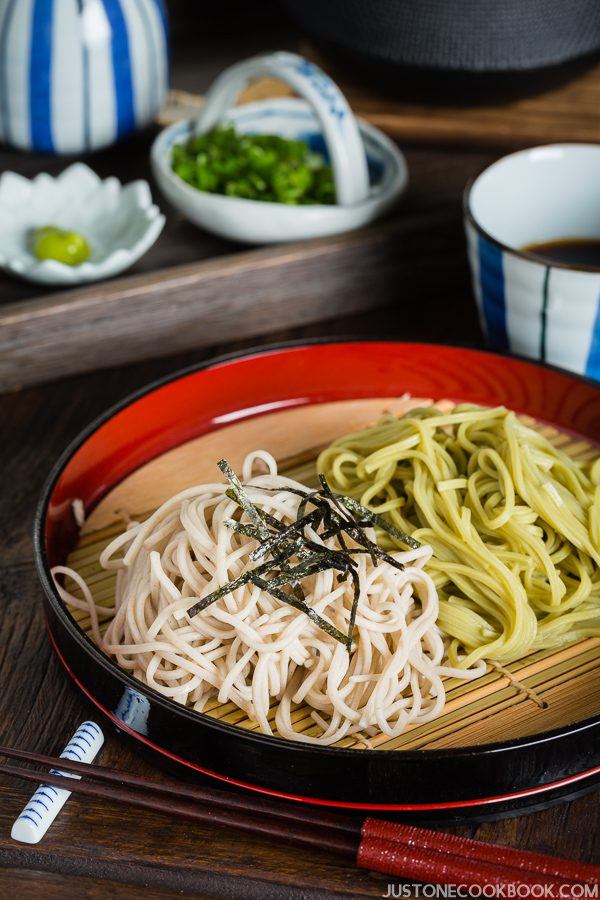 What is Zaru Soba?
Zaru Soba is a chilled noodle dish made from buckwheat flour and served with soy sauce based dipping sauce called tsuyu (つゆ).
The word zaru means "a strainer" in Japanese and the name of the dish was derived from the way the noodles are served over a bamboo strainer during Edo Period.
In today's recipe, I share how to make homemade dipping sauce, Mentsuyu (noodle soup base), but you can buy a bottle of Mentsuyu in Japanese or Asian grocery store to save time.

Soba – Buckwheat Noodles
There are different kinds of soba noodles in Japan, the primary differences between the varieties are texture and flavors.
Ju-wari Soba (十割そば) is made of 100% buckwheat flour. It has dry and rough texture so the noodles are easily broken compared to Hachi-wari Soba. Ju-wari soba has strong buckwheat aroma and flavor, and it is hard to make Ju-wari Soba because of its dry and crumbly texture.
Hachi-wari Soba (八割そば) is made from 80% buckwheat flour and 20% wheat flour. Hachi-wari means 80% in Japanese. The noodle is much smoother and it has al dente texture. Unlike Ju-wari Soba, it's easy to swallow and chew. However, the buckwheat aroma is less than Ju-wari.
It's hard to say which soba is tastier and more delicious; it really depends on personal preference.
By the way, you might have seen packages of green or pink soba noodles in Japanese grocery stores.
Cha Soba – Green Tea Soba (茶そば) is flavored with small amount of green tea powder in the soba to give a subtle green tea taste and green color.
Ume Soba – Ume Plum Soba (梅そば) is flavored with Japanese ume plum and have a slight pink color.

How To Eat Soba Noodles
At the table, you'll have a plate of soba noodles, a dipping sauce bowl/cup, a pitcher with tsuyu inside, and small dishes with green onion/wasabi.
First, fill out a dipping bowl/cup 1/3 full with tsuyu, and add another 1/3 with water. If you like, you can put some condiments of your choice such as green onion and wasabi. Then pick up some soba noodles, dip in the tsuyu briefly, and slurp the noodles up.
The dipping sauce is very salty, so don't soak the noodles in the sauce for a long time.
When you're done with noodles, you can pour the reserved sobayu (そば湯) – soba cooking water – to the rest of your dipping sauce and enjoy as a soup.
Tenzaru (天ざる) – Zaru Soba with Tempura
My mom usually serves with Vegetable Tempura and Shrimp Tempura, but honestly when it's super hot outside, who wants to deep fry… But if you're up for a full meal, make some tempura and serve with Zaru Soba!

Shrimp Tempura
Vegetable Tempura
I hope you will enjoy making this Zaru Soba recipe!  If you try it, don't forget to share your picture on Instagram, Facebook, or Twitter with #JustOneCookbook.  Thank you so much for reading, and till next time!
Zaru Soba (Cold Soba Noodles)
14 oz. (397 g) dried soba noodle
1 part dipping sauce (Mentsuyu), see below
1 part iced water
¼ cup sake
½ cup + 1 Tbsp. mirin
½ cup soy sauce
1 1 x 1 inch (2.5 x 2.5 cm) kombu (dried kelp)
1 cup packed dried bonito flakes (katsuobushi)
Kizami Nori (finely shredded nori sheets)
2 green onions
Wasabi (optional)

One Serving = 3.5 oz (100 g) dried noodles
(pasta, soba noodles, udon noodles)
Recipe by Namiko Chen of Just One Cookbook. All images and content on this site are copyright protected. Please do not use my images without my permission. If you'd like to share this recipe on your site, please re-write the recipe in your own words and link to this post as the original source. Thank you.