Teriyaki Salmon Onigirazu 照り焼きサーモンおにぎらず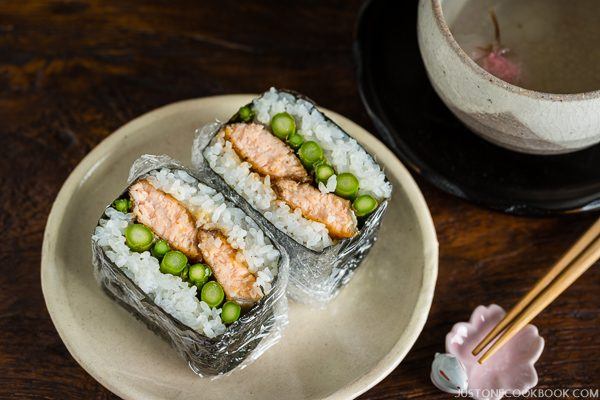 My Teriyaki Salmon recipe is one of the most popular recipes on my blog.  I've received nice compliments from many readers since I published the recipe in 2013 (thank you♥).
Today I want to suggest an easy recipe that you can make with teriyaki salmon.  Wether it's leftover pieces or extra fillet you made, this
Teriyaki Salmon Onigirazu
 (照り焼きサーモンおにぎらず) is great for your work/school lunch next day!
How to make Teriyaki Salmon Onigirazu
You can make this onigirazu many different ways.  Today I made mine with asparagus.  In case you've never heard of onigirazu before, here's a quick explanation:
What is Onigirazu?
Onigirazu is a rice ball (onigiri or omusubi in Japanese) that is not formed into the traditional round or triangle shape.  It is usually a square or rectangular shape.  You "sandwich" the fillings with steamed rice just like how you would make a sandwich with 2 pieces of bread.
Unlike traditional ongiri or omusubi, you can put more fillings inside onigirazu than traditional rice balls as the shape is square.  You can also spread the fillings just like how you lay them out for a sandwich.
You wrap the rice sandwich with a sheet of nori and cut it in half to serve or pack in your lunch box.
If you want to learn more about onigirazu and its origin/history, please read this post.

Authentic Teriyaki Salmon Recipe
Today's filling for the onigirazu is Teriyaki Salmon (照り焼きサーモン).  My recipe is different from the majority of "teriyaki salmon" recipes you find on the web.
Most (non-Japanese) salmon teriyaki recipes you find will require oven baking, but you can make my recipe with simple pan frying.  My method is definitely not unique; it's simply how the typical home cooks prepare teriyaki salmon in Japan.  You'll need just 15 minutes to prepare this recipe and I hope you will give it a try if you haven't.
Watch the video tutorial below to learn how to make authentic Teriyaki Salmon!
Onigirazu Mold for
Teriyaki Salmon Onigirazu
Many of you have asked me about my wooden onigirazu mold.  This beautiful mold was a gift from Mark, a JOC reader from Oregon.  He handcrafted this mold with Port Orford cedar and there is not a single nail used in this mold!  For those of you who are interested in this mold, check out his Etsy page!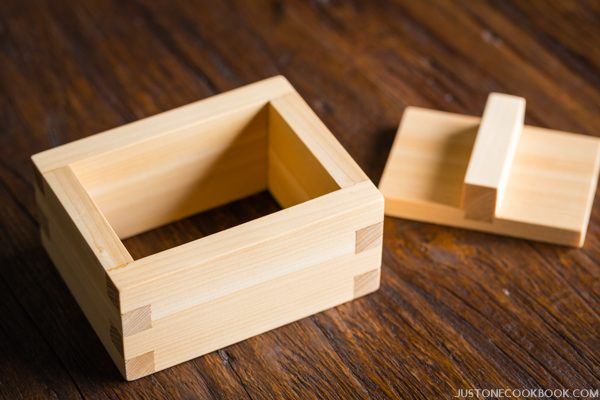 I hope you enjoy making this Teriyaki Salmon Onigirazu recipe!  If you try it, don't forget to share your picture on Instagram, Facebook, or Twitter with #JustOneCookbook.  Thank you so much for reading, and till next time!
Teriyaki Salmon Onigirazu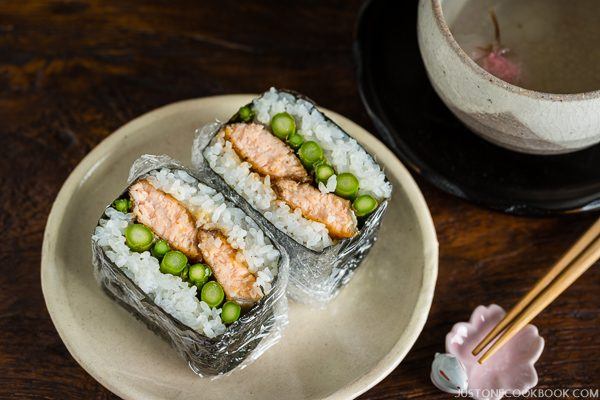 1 sheet of nori seaweed
1 cup warm steamed rice
a pinch of kosher salt
½ to 1 fillet of Teriyaki Salmon (recipe here)
8 grilled asparagus
Plastic wrap
Onigirazu mold (optional) (You can buy here)

Place a plastic wrap on a working surface and put a sheet of nori seaweed on top (shiny side facing down), with a corner pointing up. I'm using a onigirazu mold (read more about it here) to create the perfect shape.

Evenly spread the steamed rice in a thin layer and form into a square/rectangular shape in the center of nori sheet. Sprinkle a little bit of kosher salt. Salt is added to prevent the food from spoiling as we eat onigiri, onigirazu, and bento at room temperature, and typically without refrigeration.

Place the teriyaki salmon and asparagus on top. When you add the fillings, consider how you will cut the onigirazu later. You want to arrange fillings so when the ingredients are revealed it looks delicious.

Place thin layer of steamed rice on top, maintaining a nice square/rectangular shape. If you have a onigirazu mold, moist the "lid" before you press down so rice does not get stuck to it. Place the lid on top and press gently.

Pull up the mold carefully while pressing down the lid. If you're not using a mold, make sure to stack the ingredients nicely.

Bring left and right corners of nori sheet towards the center. Fold gently but tightly to wrap around the rice and filling at the center. Then bring bottom and top corners towards the center. Continue to fold gently but tightly around the layers. Make sure the rice is tucked in nicely. If your onigirazu is a square shape, you can mark the onigirazu with a rice kernel so you will remember which way you wanted to cut.

Wrap tightly with plastic wrap. Set aside for 5 minutes with nori's seam side down.

Cut the onigirazu with a sharp knife. Run your knife in running water before cutting so that the cross-section will be clean. If you plan to make this the previous night, wrap the onigirazu with kitchen towel and keep in the refrigerator overnight. The towel will prevent the rice from getting hardened due to the cold temperature. Eat within 24 hours.

Recipe by Namiko Chen of Just One Cookbook. All images and content on this site are copyright protected. Please do not use my images without my permission. If you'd like to share this recipe on your site, please re-write the recipe in your own words and link to this post as the original source. Thank you.