Sweet and Sour Chicken Bento 鶏と野菜の黒酢あん弁当
Last time I shared a bento post was August 2014… Almost 10 months ago.  I didn't mean to drop my bento series at all, but we've started to focus more on making YouTube videos and our priority got shifted a little bit.
I know some of you have mentioned that you really enjoy my bento series so I'll definitely do my best to continue next school year.  I just have to be more disciplined!
Have you been to one of the popular Japanese diners called Ootoya (大戸屋) in Japan?  Outside of Japan, there are 3 locations in NYC, and the restaurant chain is also popular in Taiwan, Hong Kong, Singapore, Thailand, and Indonesia.
My favorite meal there is this popular sweet and sour chicken & vegetable dish called
Tori Kurozu An
(鶏と野菜の黒酢あん).  Their sweet and sour sauce with black vinegar is one of their specialties and super delicious!  This dish requires deep frying so I don't make it often.  However, when I make it, it's a wonderful treat and our family really enjoy it!
On previous day, dinner was:
Ootoya's Sweet and Sour Chicken.
Lunch Next Day:
Sweet and Sour Chicken Bento
Ajitsuke Tamago (ramen egg)
Japanese Potato Salad
Steamed rice with sesame seeds and umeboshi (pickled plum)
Cherry tomatoes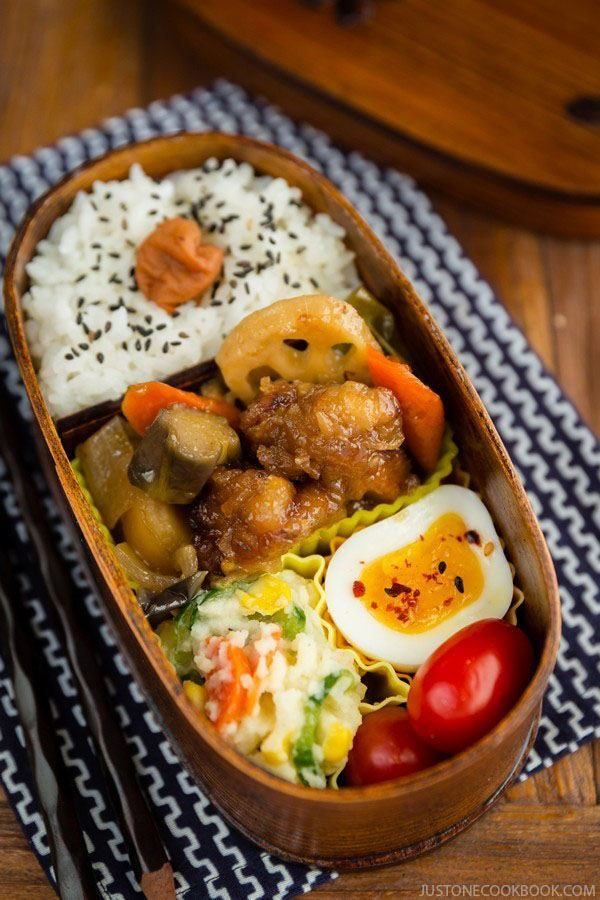 Now if you're wondering about how to heat up bento…  you might be surprised to learn that most Japanese are used to eating room temperature bento.  Microwaves are not available in school and we typically eat bento at room temperature.  Therefore, we usually pack food that tastes good even without heating up.  One trick is to season the food slightly more.  It's very common to see deep fried food, food that covered with sauce, and salad that still taste pretty good at room temperature in a bento box.
As you may not be used to eating bento at room temperature, I understand this might not work for everyone.  Please use Thermos food jars to keep hot foods hot (by lunch time, it's usually "warm") and cold foods cold for hours.  I do use the food jars as well for certain dishes.  If your school or work has a microwave, use a microwave-safe glass container to pack your lunch.  It's wise to separate hot foods and cold foods so you don't have to take cold foods out in order to microwave hot foods.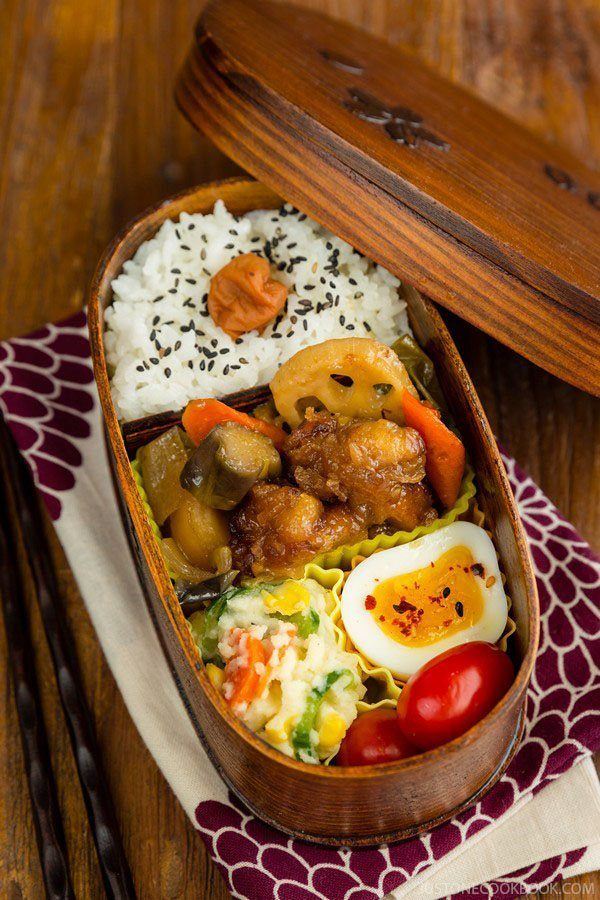 Sweet and Sour Chicken Bento
Steamed rice
Ootoya's Sweet and Sour Chicken (leftover)
Ajitsuke Tamago (Ramen Egg) (made overnight)
Japanese Potato Salad (leftover)
Cherry tomatoes
Black sesame seeds
Umeboshi
Pack steamed rice in ⅓ of bento box and let it cool.
Reheat Ootoya's Sweet and Sour Chicken in a frying pan till heated through. Transfer them to a small plate and let them cool.
Meanwhile, put Ajitsuke Tamago, Potato Salad, and cherry tomato in the bento box.
When Sweet and Sour Chicken is cool, pack in the bento box.
Cool down completely before closing the bento box to avoid condensation.
Recipe by Namiko Chen of Just One Cookbook. All images and content on this site are copyright protected. Please do not use my images without my permission. If you'd like to share this recipe on your site, please re-write the recipe and link to this post as the original source. Thank you.