Spiralized Cucumber Salad きゅうりのごま酢和え
As the weather is getting warmer and summer is just around the corner, I love making refreshing salad and side dishes to go with our Japanese meals.  Today I'm sharing my
Spiralized Cucumber Salad with Sesame Dressing
.

Easy and Delicious Spiralized Cucumber Salad
Spiralizer

I received The Inspiralizer from Ali from Inspiralized.com several weeks ago, and I've been busy spiralizing vegetables and fruits ever since!!  I still enjoy regular noodles and pasta, but zucchini noodles or zoodles are one of the popular ways to make a dish into a "light" meal and I love the concept!
You can make Japanese Cucumber Salad by simply slicing cucumbers, but spiralized cucumbers are more fun!  They give more dimensions to the salad and I love how it gives textures when you eat.
The spiralizer could also make food more fun for the family.  My daughter loves apples and lately her new routine after dinner is spiralizing an apple and eat with sprinkle of cinnamon.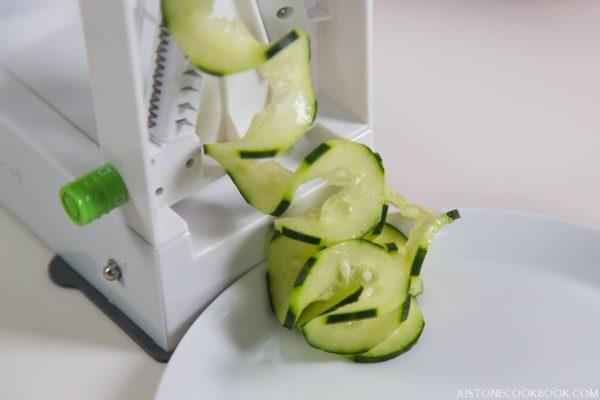 Sesame Vinaigrette for 
Spiralized Cucumber Salad
This sesame vinaigrette is called gomazu-ae (胡麻酢和え) in Japanese.  You might be more familiar with Spinach Goma-ae (ほ うれん草の胡麻和え) as it's a better-known dish in the U.S. (how about where you live?).  Compared to Goma-ae, this sesame vinaigrette is more refreshing and I love the addition of nutty aromatic sesame seeds.  This dish is super easy and you can make it in less than 15 minutes.
Eat Healthy & Exercise!
As I'm turning 40 later this year, I've been inspired to eat clean and healthy whenever I can.  I said "whenever I can" because sometimes I do enjoy a fatty meal with friends and family and treat myself.  I consider it's okay as long as it's occasional.
As I regularly try out different foods and test recipes all the time, I don't want to restrict my diet to just salads and vegetables or avoid certain foods.  I just try my best to eat healthy, whole foods – food that has been processed/refined as little as possible and is free from additives or other artificial substances.
A few months ago, I discovered this great YouTube fitness channel called FitnessBlender.com (YouTube | Website).  I've been watching their YouTube channel to exercise in my living room every day for the past month and I am feeling great!  I want to keep my body strong and healthy (and it's a bonus if I could shed some weight during the process!!).
Honestly, I'm not an exercise person but this fitness program has been motivating me to exercise everyday!  I know this is not related to food, but if you always wanted to exercise but keep postponing, give this YouTube channel a try!  I wished that I knew this channel years ago, so I couldn't help but share with everyone…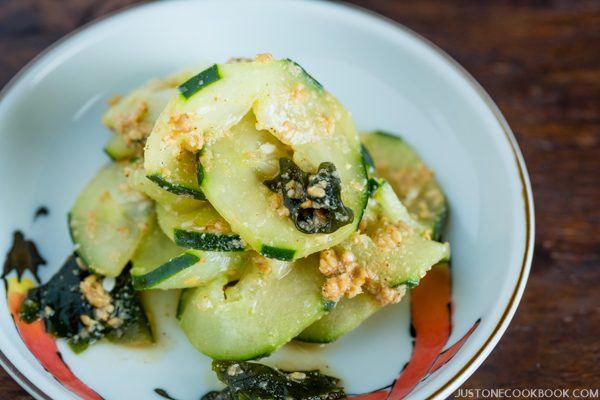 1 Tbsp. wakame (seaweed)
1 Amercian cucumber (for best sprializing result)
Kosher salt
3 Tbsp. toasted white sesame seeds
1 Tbsp. soy sauce
3 Tbsp. rice vinegar
2 tsp. sugar

Cover and soak 1 Tbsp. wakame in water until it softens and hydrates, about 5 minutes.

Grind 3 Tbsp. toasted white sesame seeds in pestle and mortar (Japanese style is wooden pestle and grooved mortar), keeping some seeds unground for some texture.

Add 2 tsp. sugar, 1 Tbsp. soy sauce, and 3 Tbsp. rice vinegar and mix well. Set aside.

I usually like to make a striped pattern by alternately peeling a ½-inch-wide strip lengthwise, then leaving a strip of the skin intact. With this method, the cucumber slices have some decorative dark green accents and a little bit of extra crunchiness.

Center align the cucumber on the spiralizer and press firmly to secure both ends (For The Inspiralizer, set to "Blade A" for wide ribbons). If you don't use a spiralizer, simply slice the cucumber into thin slices.

Spin the handle clockwise to spiralize. Using a kitchen shears or knife, cut the spiralized cucumber into shorter lengths.

Sprinkle kosher salt and give some gentle massage. Set aside for a few minutes.

Squeeze the excess moisture out and place in a bowl. Squeeze wakame and add to the bowl.

Before serving, Pour the sesame dressing over the cucumber and wakame, and mix well together. Serve in individual dishes or in a large serving bowl. Serve immediately. I don't recommend keeping it for a long time as moisture from the cucumber will dilute the dressing and the salad becomes more like pickles. If that's okay, it will last in the fridge for 2-3 days.