Spinach Gomaae Recipe (Sesame Sauce) ほうれん草の胡麻和え
Spinach or green beans are often dressed in sesame sauce in Japanese cuisine.  We call this dish "
Goma-ae
(胡麻和え)".  Sweet and savory sesame sauce made with freshly ground sesame seeds adds rich and nutty flavors to refreshing blanched green vegetables.
What does Gomaae mean?
Goma (胡麻) in Japanese means sesame seed and goma-ae (胡麻和え) is a dish that's dressed with the sesame sauce. The word ae (pronounced as [ah EH]. 和え) comes from the verb aeru ([ah EH loo]. 和える) which is to dress (the food with sauce).

Spinach Gomaae as Easy Side Dish
Spinach gomaae is one of the most popular side dishes, or as we call Osozai (お惣菜), in Japan.
It's extremely easy and quick to make, and it compliments well with any Japanese foods. Not to mention, it is often added to a bento lunch giving a nice appetizing green color to the meal.
Freshly Toasted & Ground Sesame Seeds for Spinach Gomaae
Sesame seeds add a nutty taste and a delicate crunch to the dish.  If you have time, I highly recommend toasting the sesame seeds (even for roasted sesame seeds) in a frying pan just for a few minutes (no oil needed).   This simple step brings out the wonderful aroma of sesame seeds and toasty flavors.
Once the sesame seeds are nicely toasted, grind them in a Japanese mortar and pestle. You will be immediately surrounded by the fragrant roasted sesame smell!
Japanese grocery stores sell convenient crushed/ground sesame seeds in packaged, but the fragrance and flavors won't be the same.

Japanese Mortar & Pestle
For Japanese cooking we make gomaae frequently enough that each household usually owns Japanese mortar and pestle to crush sesame seeds as well as for various pastes.
The Mortar (Suribachi): It's an earthenware bowl and the inside has a ridged pattern to facilitate grinding.
The Pestle (Surikogi): It's usually made of wood so that it prevents from wearing down the ridges in the mortar.
I've been using a small suribachi since my college days, but I think it's time to upgrade to a bigger one so that I can add the blanched spinach directly into the suribachi, instead of transferring the sesame sauce to a bigger bowl.  If you cook for family, I recommend at least medium size suribachi.  You can purchase Japanese mortar and pestle on Amazon.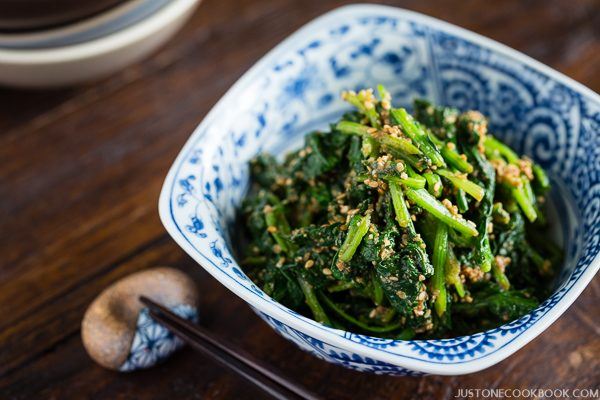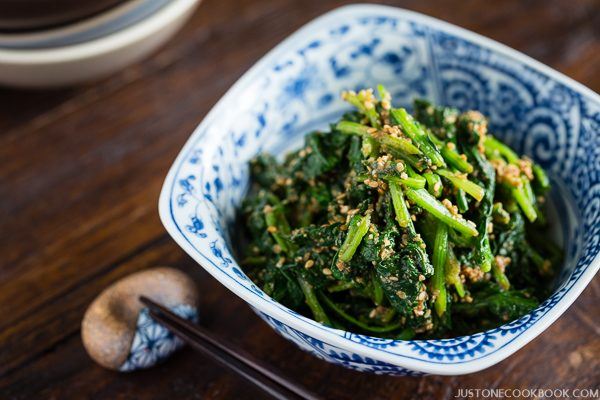 1 bunch (1/2 lb, 220 g) spinach
A pinch of salt
3 Tbsp. roasted white sesame seeds
1½ Tbsp. soy sauce
1 Tbsp. sugar
½ tsp. sake
½ tsp. mirin

American spinach is very soft and we can eat it raw unlike Japanese spinach; therefore, cooking for 30-45 seconds is enough.
Recipe by Namiko Chen of Just One Cookbook. All images and content on this site are copyright protected. Please do not use my images without my permission. If you'd like to share this recipe on your site, please re-write the recipe in your own words and link to this post as the original source. Thank you.