Shogayaki Bento (Ginger Pork) 生姜焼き弁当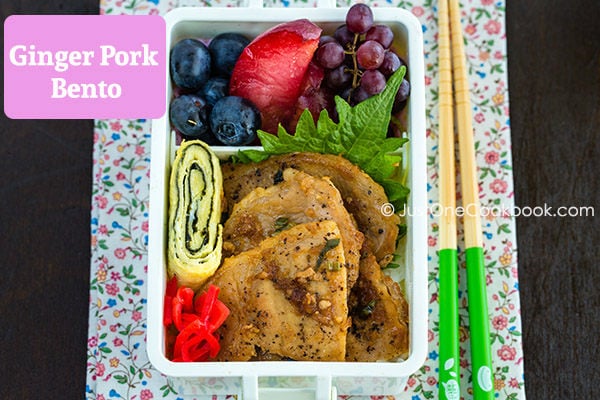 I received very positive feedback on How To Make Bento post from the readers and I just want to say thank you!  It took a bit of effort and many sleepless nights to put together the bento post, but the great feedback from you makes it all worthwhile!  I hope the instructions were clear and helpful.
As I continue my bento series, today I'll show you the Ginger Pork Bento I had prepared.
Previous Dinner Was: Shogayaki (Ginger Pork).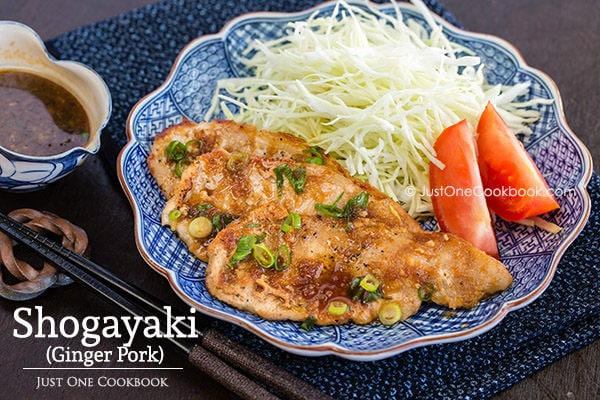 Ginger pork is one of the easiest Japanese pork dishes you can make! It takes less than 30 minutes to cook from start to finish.  If you enjoy tender pork with a hint of ginger, you'll love this dish.
Shiogayaki Bento for Lunch
Shogayaki (Ginger Pork ) over rice
Various fresh fruits
Tamagoyaki (Japanese Rolled Omelette)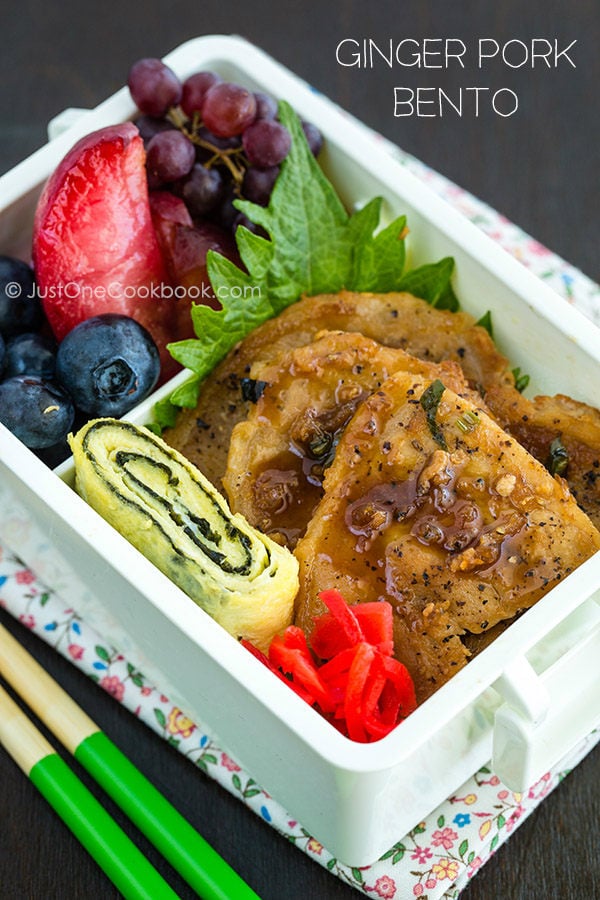 I defrosted a pack of frozen rice (See How To Freeze Rice) in microwave and fill 2/3 of the bento box my kids have.  Besides reheating the Ginger Pork (see Food Safety For Bento), only thing that I had to cook in the morning was this Quick & Easy Tamagoyaki.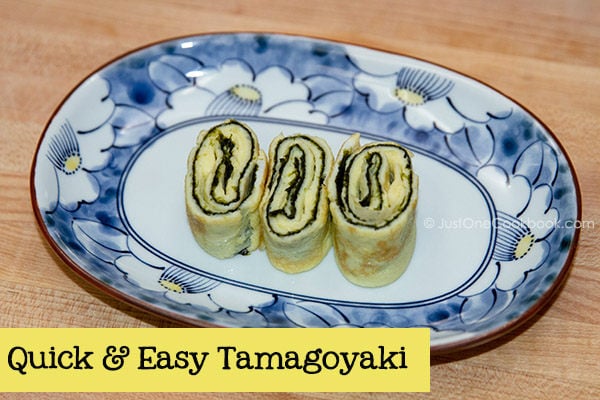 While I wait for rice, Tamagoyaki and Ginger Pork to cool down, I washed and cut fruits.  When everything is cooled completely, I packed all the foods into the bent box.

Shogayaki (Ginger Pork) Bento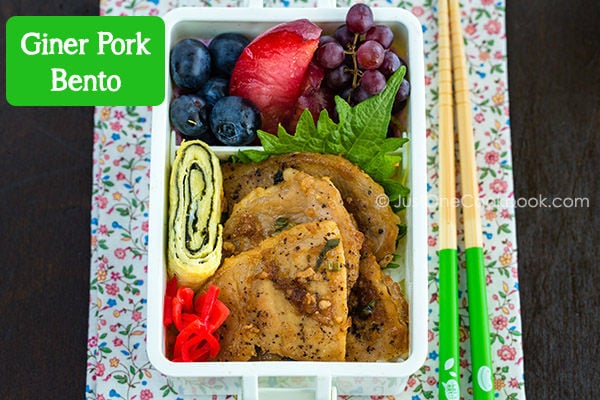 Author: Namiko Chen
Serves: 1 Bento
Ingredients
Japanese steamed rice
1 egg + 1 tsp. sugar for Quick & Easy Tamagoyaki.
Shogayaki (Ginger Pork)
Shiso leaf (perilla) for garnish
Kizami Shoga (pickled ginger) for garnish
Blueberries
Plums
Grapes
Instructions
Fill up half of bento box with the rice. Let it cool so that hot/warm rice will not warm up other cool food.
Make Tamagoyaki (see how to make Quick & Easy Tamagoyaki).
Reheat leftover Shogayaki (Ginger Pork) in the frying pan until it's warm thoroughly.
Wash and cut fruits.
Start packing cooled foods into bento box.
Cool down completely before closing the bento box.
Recipe by Namiko Chen of Just One Cookbook. All images and content on this site are copyright protected. Please do not use my images without my permission. If you'd like to share this recipe on your site, please re-write the recipe in your own words and link to this post as the original source. Thank you.