Egg Salad Sandwich たまごサンド弁当
I am usually pretty good at organizing and following my constantly updated to-do list.  But once in a while life does get overwhelmingly busy and I fail to plan ahead especially when juggling too many things at the same time.  What ends up happening is I call my husband at the office asking him to meet me and the kids at a restaurant for dinner at last minute.
One of the drawback of not cooking dinner at home is that I don't have "leftover" to pack for my son's bento (lunch box) the next day.  I try to save some leftover in freezer for emergency like these, but sometimes no luck.  On those days, easy sandwich comes in handy.
Now for those living in the States, peanut butter and jelly sandwich might be a common menu for children's school lunch.  However, both of my children always preferred hot panini sandwich than typical soft bread sandwich like these.

The turning point was when we were in Japan last April.  My mother love bakeries and we often visited many local bakeries to pick up fresh bread.
My children really enjoyed fresh baked bread from Japanese bakeries and they especially loved Egg Salad Sandwich, or we call it Tamago Sando (た まごサンド).  Japanese sandwich usually uses crust-less white bread slices, probably from British influence.  Compared to typical American egg salad sandwich, Japanese version is very simple – there is no celery, chives or green onions.  The eggs are seasoned simply with Japanese mayonnaise, salt and pepper, and sugar.
Now speaking of mayonnaise, I receive several questions from some of you about Japanese mayonnaise.  What's the difference from regular kind?  Well, you can read more about it here.
My son loves this Egg Salad Sandwich and this menu is now one of my favorite backup bento plan.  I hope you will give it a try and enjoy this simple egg salad sandwich!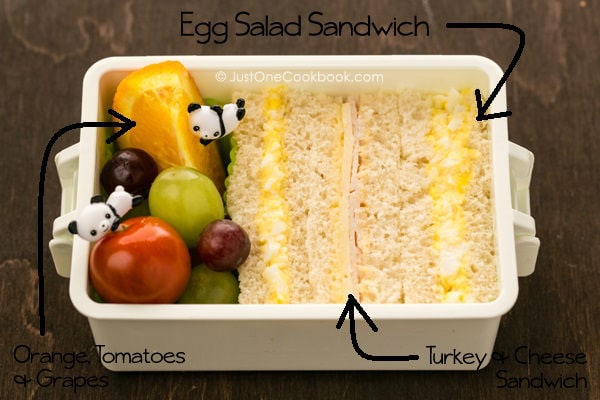 Egg Salad Sandwich Bento
2 slices, bread of your choice
1 hard boiled egg, peeled
1 Tbsp. Japanese mayonnaise
Salt
Freshly ground black pepper
pinch of sugar (optional)*

Recipe by Namiko Chen of Just One Cookbook. All images and content on this site are copyright protected. Please do not use my images without my permission. If you'd like to share this recipe on your site, please re-write the recipe in your own words and link to this post as the original source. Thank you.