Classic Mentaiko Pasta 明太子パスタ

What is Mentaiko?
Mentaiko (明太子) or Karashi Mentaiko (辛子明太子) is spicy pollock/cod roe.  It's often enjoyed as a side dish to accompany steamed rice (just like pickled vegetables), as a topping for Ochazuke and ramen, or used as a filling inside of Onigiri (rice balls).  It has a distinct salty taste and texture which adds a lot of flavor to plain food.  During my current visit to Japan, I had mentaiko with kombu from Hirosho (博多明太子ひろしょう) and it was delicious with rice.


There are many different variations of flavors and colors for mentaiko.  They range from just plain salted to yuzu, kombu, and spicy chili flavors.  Mentaiko is a specialty that originated from Hakata (ward of Fukuoka City) and it is very popular throughout Japan.

Quick & Easy Mentaiko Pasta
It might seem like an odd pairing, but the salty and spicy mentaiko goes really well in a buttery creamy sauce.  The roe of pollack/cod is much smaller, refined, and softer than tobiko (flying fish roe), which are often used for sushi.  If you close your eyes while eating, you probably won't notice you're eating tiny pollack/cod roe from the texture.  However its flavor definitely packs a punch.
The reason why this recipe is quick and easy to prepare is that you don't need to cook mentaiko and the cream sauce.  Simply prepare the cream sauce while boiling pasta, and toss and coat the mentaiko mixture with cooked pasta and you're done!  The hot cooked pasta will heat up the mentaiko cream sauce.
This sauce is not very "saucy", but if you prefer you can double the amount of the sauce and pollack/cod roe.  Don't increase just creamy sauce (milk + heavy cream) because the balance between spicy/salty roe and creamy sauce will be off.
Top the pasta with strips of nori seaweed and julienned shiso leaves (perilla) to give it nice distinct aroma and flavor, just like how julienned basil provides the final touch for some Italian pasta dishes.

Substitute Ingredients for Mentaiko Pasta
Mentaiko: I know mentaiko is not easy to find unless your nearest Japanese grocery stores carry it.  Unfortunately, the only substitute that would work is tarako (たらこ), the cod/pollack roe that's not prepared with chili (so your children can enjoy too).  Again, this is something you should be able to find in most Japanese grocery stores, but not common ingredients to find elsewhere.

I apologize that there is no good substitute, but I still wanted share this recipe and introduce a popular and easy Japanese-style pasta (wafu pasta) with you today.
Milk & Heavy Whipping Cream: In the U.S., we have "half and half" (one part milk one part heavy cream) and I sometimes keep them in my fridge for our coffee.  You can use half and half instead of mixing milk and heavy whipping cream.  If you want to keep the pasta healthier/lighter, skip heavy cream and use whole milk (or reduce fat milk) only.  If you like more creamy pasta, you can use heavy cream only.  The result of "creaminess" will vary depending on the ratio of milk and cream.
Butter: If you like to keep it healthier/lighter, you can replace the butter with extra virgin olive oil.
Shiso Leaves (parilla leaves): This Japanese herb goes really well with this pasta.  I highly recommend to include if you can find it, but it's fine to skip if you can't find it locally.  Don't use basil or other types of herbs for this recipe as they don't give the same effect.
Instant Mentaiko Pasta Sauce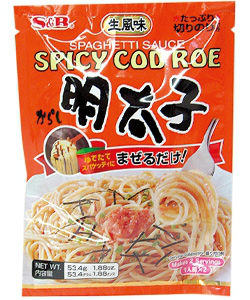 In your Japanese grocery stores, you might find this popular Mentaiko Pasta "instant" spaghetti sauce.  I was addicted to this when I was in college as all you need was to boil pasta and mix it with the sauce.
However, I have to tell you it's so easy to make homemade mentaiko pasta if you can get mentaiko.  So look for mentaiko or spicy cod/pollack roe in the nearest Japanese supermarket and try this recipe!
If you like udon noodles, try this Mentaiko Udon!


Here are other wafu pasta you might like to try from Just One Cookbook.  Try this Ume Shiso Pasta (梅しそパスタ)!
I hope you will enjoy making this Mentaiko Pasta recipe!  If you try it, don't forget to share your picture on Instagram, Facebook, or Twitter with #JustOneCookbook.  Thank you so much for reading, and till next time!
Mentaiko Pasta
1-2 tsp. kosher salt (for boiling pasta)
6-7 oz. (170-200 g) spaghetti
2 sacks (2 oz/60g) spicy salted pollack roe or cod roe (karashi mentaiko)
2 Tbsp. milk (I use whole milk)
2 Tbsp. heavy whipping cream
2 Tbsp. unsalted butter, melted
1 Tbsp. soy sauce
Freshly ground black pepper
Shredded nori seaweed (or sheet of nori, cut into thin strips) for topping
Shiso leaves for topping

Recipe by Namiko Chen of Just One Cookbook. All images and content on this site are copyright protected. Please do not use my images without my permission. If you'd like to share this recipe on your site, please re-write the recipe in your own words and link to this post as the original source. Thank you.