Chicken Teriyaki Bento チキン照り焼き弁当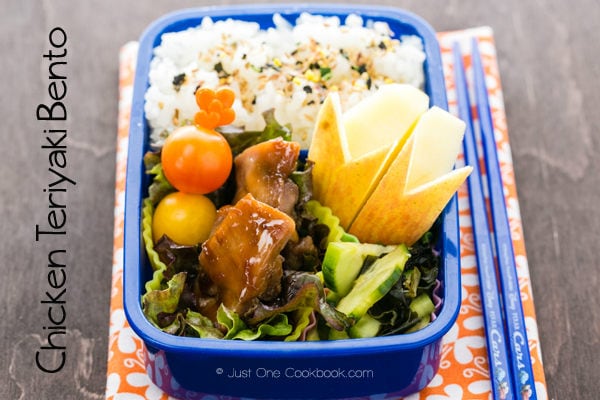 TGIF!  How was your week?  I cannot believe we are already at the end of September.  Didn't schools just start not long ago?  Just like any other families with children, I sometimes find it difficult to prepare dinner with everything that's going on.  I cook dinner almost everyday, so quick and easy recipe like 
Chicken Teriyaki
comes in handy.  It's especially tasty with the homemade sauce.
If your rice cooker has a timer, you can wash rice and set it to be ready for your dinner time.  I defrost chicken in the morning before I drop off my children at schools.  And when I come home for lunch after picking up my daughter, I quickly marinade the meat.  If you are working full-time, you might have to plan ahead so that you can marinade the chicken before going to work.
About 40 minutes prior to dinner time, you can start cooking the chicken.  While you are doing so, you can make quick
Miso Soup 
and simple salad.  If you still have some time, you can make another quick side dish like
Sunomono (Cucumber Salad)
.  There you go, healthy homemade food!
I wish everyone a fantastic weekend.  I definitely need to catch up some sleep as well as some blogging work, and of course have some fun with my family.  Enjoy!
Previous Dinner was: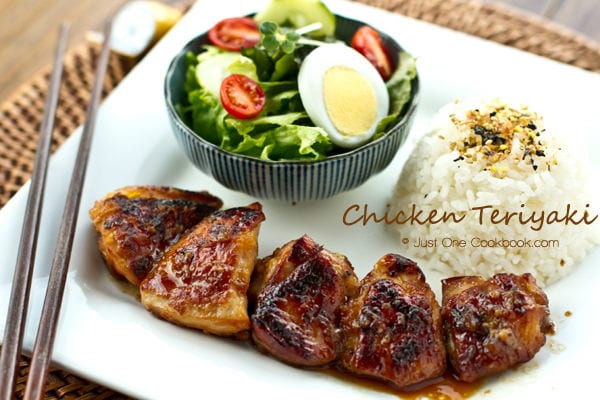 Chicken Teriyaki (I used chicken thigh WITHOUT skin this time), and quick side dish Sunomono (Cucumber Salad).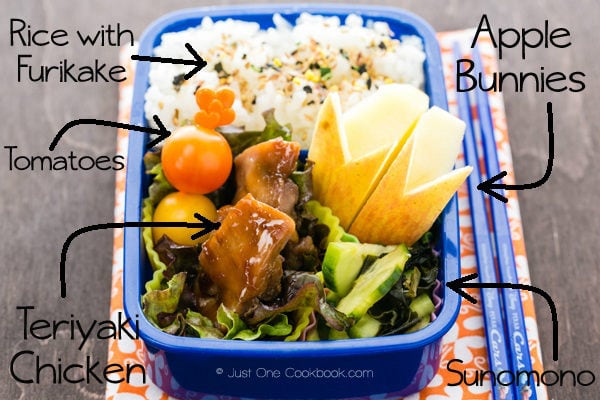 Chicken Teriyaki Bento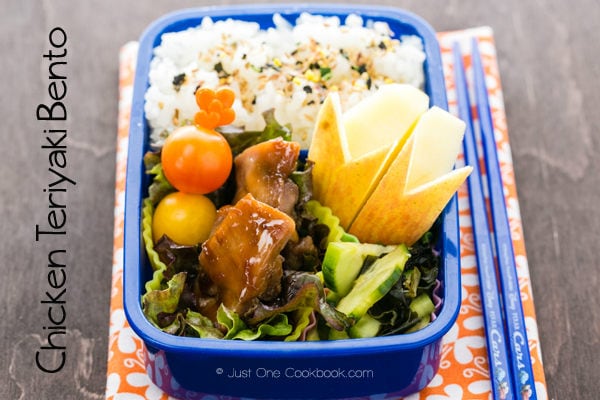 Japanese rice
Chicken Teriyaki
Lettuce for garnish
Tomatoes
Sunomono (Cucumber Salad)
2 Apple Bunnies
Furikake
Fill up half of bento box with Japanese rice. Let it cool so that hot/warm rice will not warm up other cool food.
Reheat leftover Chicken Teriyaki in a frying pan until it's warm thoroughly.
Wash lettuce and tomatoes and pat dry. Place nicely in the bento box.
Pack cooled Chicken Teriyaki on top of lettuce.
Put Sunomono in a silicone cup and put it in the bento box. Make sure you do not include any liquids.
Pack Apple Bunnies in an open space in the bento box.
Sprinkle furikake on top of slightly cooled rice.
Cool down completely before closing the bento box.
Recipe by Namiko Chen of Just One Cookbook. All images and content on this site are copyright protected. Please do not use my images without my permission. If you'd like to share this recipe on your site, please re-write the recipe in your own words and link to this post as the original source. Thank you.