Bulgogi Onigirazu
If you are aware or have heard of 
Onigirazu
(おにぎらず) – a type of Japanese rice ball, then you're pretty current with the latest of Japanese food trends!
Onigirazu was in fact one of the most influential food trend in Japan last year (2015) and today I'm making Onigirazu with
Bulgogi
, Korean grilled beef!  

What does Onigirazu mean?
The name Onigirazu comes from Japanese rice ball – Onigiri (おにぎり) or sometimes called Omusubi (おむすび).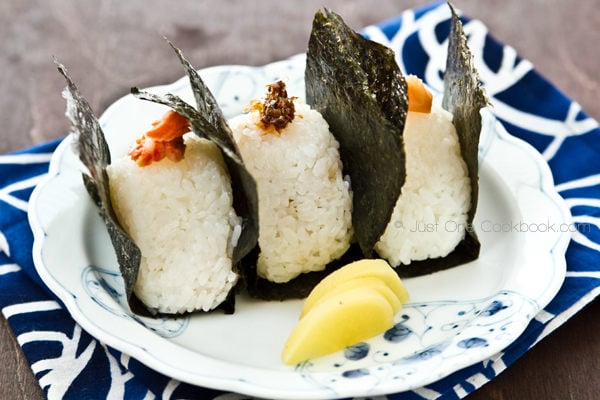 Onigiri is a great healthy choice for lunch or snack.  It is made of the rice formed into the traditional triangle, round, or cylinder shape with hands.  Usually the rice ball is filled with pickled plum (umemboshi), soy sauce seasoned bonito flakes (okaka), or other kinds of fillings, and then wrapped with nori seaweed.
The word "Onigiri" comes from "Nigiru", which means to squeeze or hold tightly in Japanese.  When you do NOT squeeze tightly, we say "Nigiranai" or "Nigirazu".
So Onigirazu is the rice ball (Onigiri) that is NOT squeezed tightly into the traditional shape (Nigirazu).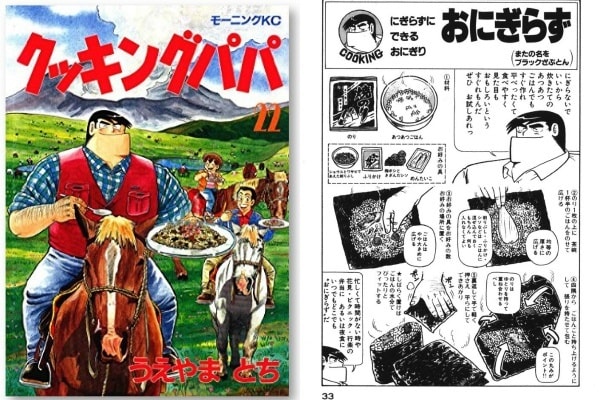 The Onigirazu History
Although Onigirazu became a huge trend last year, it had been introduced 25 years ago by a manga artist Tochi Ueyama in his manga (Japanese comic books) "Cooking Papa".
In his food manga, the main character, a dad and salary-man, likes to cook for his family.  Ueyama named this dish "Onigirazu"and introduced it in his comic books when he saw his wife making a new style of Onigiri.
In fall 2014, the most popular Japanese recipe sharing site, Cookpad, had a feature on Onigirazu recipes.  Since then, this recipe was revived and it became a popular search word, especially among housewives who make their husband and children's lunches.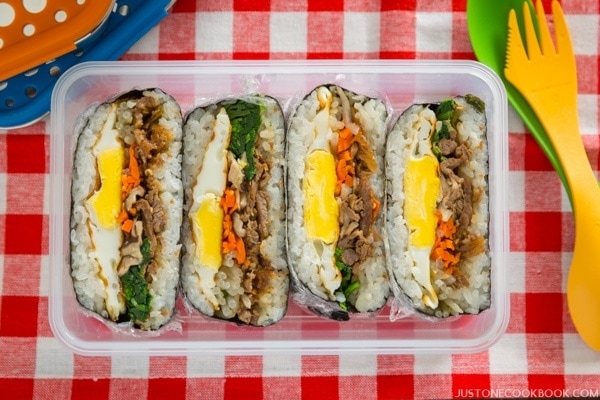 What's So Special About
Onigirazu

?

It has 3 big appealing features that caught everyone's attention and stayed popular.
1. More fillings; make it into a meal!
It can be stuffed with much more fillings than Onigiri.
Onigiri tends to include one kind of filing, but Onigirazu usually has more than 2-3 kinds of fillings!  With a main dish filling like Bulgogi and Tonkatsu, you can get carb (rice), protein (meat), and veggies (lettuce) in one bite!
2. No more mess; easy to assemble!
When you make this delicious dish, you wrap the rice with nori sheet.  Therefore, you don't have to wet your hands and form rice into a rice ball.  While Onigiri takes practice and some skill to make, Onigirazu is very simple to assemble, just like a sandwich!
3. Endless creative fillings!
Most people stick with traditional filling when it comes to Onigiri because of limited filling space.  However, people are very creative and put unconventional fillings in Onigirazu like ham, cheese, egg, fried chicken, and grilled meat.
Onigirazu also use various condiments like ketchup, Tonkatsu sauce, mayonnaise for spreads which is not common for Onigiri.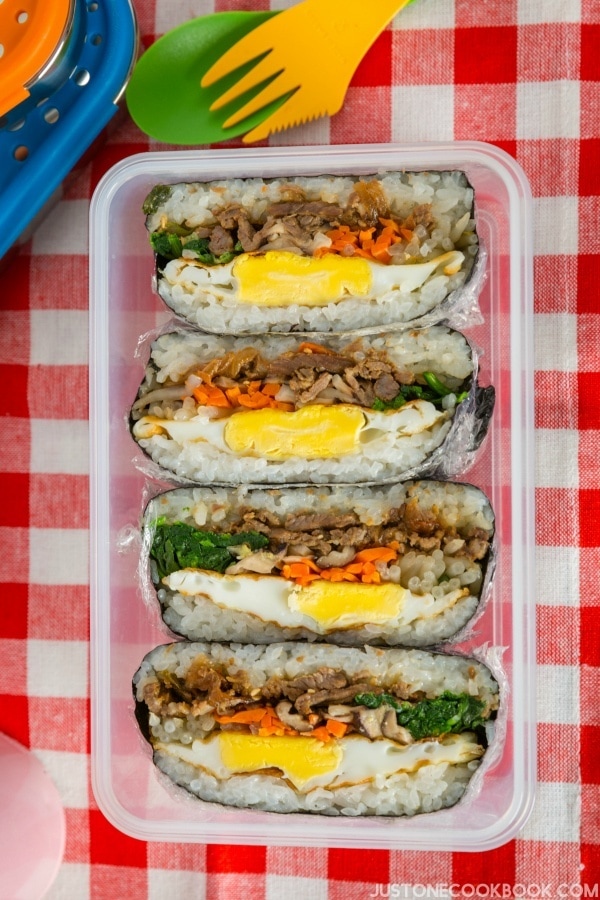 5 Tips To Make Perfect Onigirazu
1. Spread the rice into square shape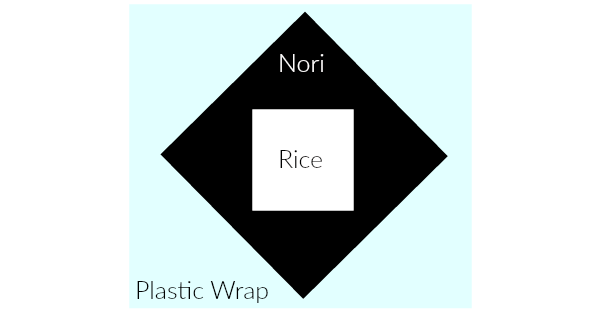 Place a nori sheet with a corner pointing up.  Try to evenly spread the rice into a square shape in the center of nori.  Don't forget to leave some space around the rice for easy wrapping.
2. Put the rice and fillings in thin layer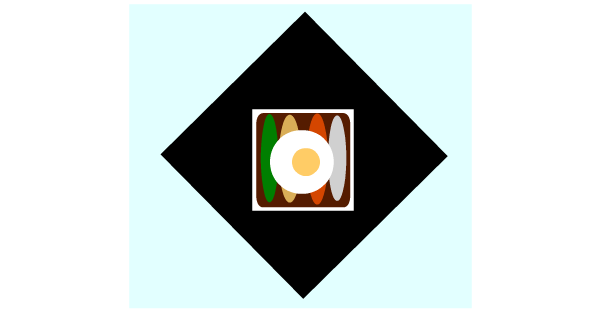 Make sure to place the fillings in single/thin layers and stack them on top of previous one, avoid empty spaces.  When you place ingredients, think about the cross-section view after you cut in half.  Work with small amount of fillings so that it's easier to wrap.
3. Mark which side you would cut in half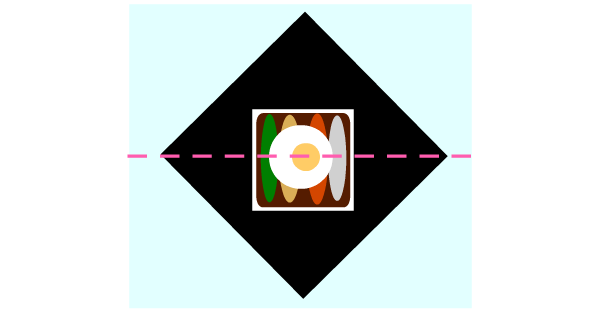 If your fillings are placed in a single layer on top of another, you don't need to worry about this tip (like lettuce, cheese, ham etc).
If you place multiple ingredients, it's important to remember which side you'd need to cut in half before you finish wrapping with nori (and can't see inside!).
In above diagram, we need to cut along the pink line so that all the fillings with different colors will be visible from cross-section.  A trick to remember?  Mark the cutting line with a piece of ingredient (I used a stick of carrot).
4. Flip and rest for 5 minutes
Fold each corner of nori sheet tightly around the layers of rice and fillings at the center.  Wrap tightly with plastic wrap and flip over, seam side down.  The steam from the rice will moisten nori sheet and bind all the ingredients well together.
5. Wet your sharp knife
Use a sharp knife to cut it in half.  If you run water on your knife before cutting in half, the rice and nori won't stick to your knife and cross-section will be clean.

Delicious Bulgogi Recipe
My family loves this Bulgogi recipe that I had been cooking… but I had been using Japanese soy sauce.  It tastes great, but I had never imagined it could taste even better with Korean soy sauce!
When I did this last collaboration video with Seonkyoung, she gave me a bottle of Korean soy sauce.  I should have bought a bottle of Korean soy sauce years ago for Korean dishes!  Korean dishes taste FANTASTIC with Korean soy sauce (duh?!).  Keep your Japanese soy sauce for Japanese recipes, and I highly recommend using Korean soy sauce for this recipe!
To add more colors to this Bulgogi Onigirazu, I added vegetable side dishes that I use for my Bibimbap recipe.  It definitely requires a bit of extra work, so you can totally skip these veggies.  However, cross-section looks pretty when green and red colors pop out, and not to mention yellow fried egg!
The gochujang sauce in the recipe is optional too, but we love this spicy and sweet savory sauce for my Bibimbap recipe…so again I use this sauce for this recipe.  Bulgogi Onigirazu tastes perfect without the gochujang sauce.

Variations: Tonkatsu Onigirazu
For today's recipe, I collaborated with my YouTuber friends, Shinichi and Satoshi from Tabi Eats !  Check out their super delicious recipe and don't forget to subscribe to their YouTube channel!
I hope you will enjoy making this Bulgogi Onigirazu recipe!  If you try it, don't forget to share your picture on Instagram, Facebook, or Twitter with #JustOneCookbook.  Thank you so much for reading, and till next time!
Similar Dish
Bulgogi Onigirazu
½ onion
½ large carrot
3 scallions
1 lb. beef (tenderloin, ribeye, or top sirloin)
1 Tbsp. sesame oil for cooking the meat
1 Tbsp. sesame seeds for topping
2 Tbsp. Korean soy sauce
1 Tbsp. sesame oil
2 Tbsp. brown sugar
Freshly ground black pepper
¼ Asian pear (=2 Tbsp.)
4 cloves garlic (=2 tsp.)
1 Tbsp. sesame oil
1 clove garlic
a pinch of kosher salt
a pinch of kosher salt for blanching
6 oz (170 g) bean sprouts (½ package)
1 green onion/scallion
1 Tbsp. sesame oil
1 clove garlic
a pinch of kosher salt
½ bunch spinach
½ large carrot
1 tsp. sesame oil
a pinch of kosher salt
6 shiitake mushrooms
1 tsp. sesame oil
a pinch of kosher salt
1 Tbsp. cooking oil (vegetable/canola)
4 eggs
4 large rice bowls of warm steamed rice (cooked from 2 rice cooker cups)
4 large nori sheets
kosher salt (optional)
2 Tbsp. gochujang (Korean hot pepper paste)
1 Tbsp. sesame oil
1 Tbsp. granulated sugar
1 Tbsp. sesame seeds
1-2 Tbsp. water to dilute to your desired consistency

In a large bowl, combine the ingredients for Bulgogi marinade (1 Tbsp. sesame oil, 2 Tbsp. soy sauce, 2 Tbsp. brown sugar, and freshly ground black pepper). Grate ¼ of an Asian pear (About 2 Tbsp. after grated). Crush (or mince) 4 cloves garlic (About 2 tsp. minced garlic). Mix all together.

Cut the onion and 2" (5 cm) long carrot into thinly slices.

Cut the scallions into 2" (5cm) long pieces and cut the beef into thin 2" (5 cm) long strips slices. I froze the meat for 2 hours (depending on the size and thickness) prior to cutting the meat into thin slices (Click here for my tutorial).

Toss the vegetables and meat together and coat with the marinade. Set aside for at least 20 minutes.

Prepare 2 medium bowls; in each bowl combine 1 Tbsp. sesame oil, ½ tsp. of minced garlic (=1 clove garlic), and a pinch of kosher salt. Mix well.

Bring a medium pot of water to a boil and add 1 tsp. salt. Add the bean sprouts and cook for about 1 minute. We will need to reserve the boiling water for spinach, so scoop up the bean sprouts with a sieve or spider strainer. Run in cold water in the sink to stop cooking further with remaining heat and drain well. Set aside.

In the same boiling water, blanch the spinach for 30 seconds. Prepare iced water in a large bowl and transfer the spinach to the iced water to stop cooking.

Squeeze out water from spinach as much as you can and add to one of the bowls with seasonings. Toss well with the sauce.

Thinly cut the green onions. Add the bean sprouts and green onion in the other bowl and toss well with the sauce.

Cut the carrot in half widthwise, about 2" (5 cm) length. Cut each piece into thin slices, and julienne the carrots. Cut the shiitake mushrooms into thin slices.

Heat 1 tsp. sesame oil in a large frying pan and add the carrot. Season with a pinch of salt and sauté till tender. If your pan is big enough to add shiitake mushrooms, move the carrot to one side when it's cooked half way. Add 1 tsp. sesame oil in the open space and add shiitake mushrooms. Season with a pinch of salt and sauté till tender. If your frying pan is small, cook one ingredient at a time; transfer the carrot to a plate and cook shiitake mushrooms after. When carrot and shiitake mushrooms are both tender (but not over cooked), transfer to a plate and set aside.

Heat 1 Tbsp. cooking oil in the large frying pan and make fried eggs. I cook the eggs "over hard" so egg yolk won't be runny and messy when Onigirazu is cut in half.

In a large skillet (I use a griddle pan so I can grill the meat in a single layer), heat 1 Tbsp. sesame oil over medium high heat and sauté the marinated beef until cooked, about 5 minutes. Transfer the meat to the plate and sprinkle with sesame seeds.

Combine all of the sauce ingredients in a small bowl and mix all together. Add 1-2 Tbsp. water until you achieve the consistency you like.

Place a plastic wrap on a working surface and put a sheet of nori seaweed on top (shiny side facing down), with a corner pointing up. Evenly spread the steamed rice in a thin layer and form into a square shape in the center of nori sheet. If you make Onigirazu with different ingredients that have more mild taste, sprinkling salt at this step is very important, especially if you planning on eating it at room temperature.

Place Bulgogi on top of the rice in a thin layer. Then put spinach, bean sprouts, carrot, and shiitake in a thin layer on top of the meat.

Add the fried egg and then steamed rice on top. Try to keep the square shape as you spread the rice evenly in a thin layer.

Bring left and right corners of nori sheet towards the center. Fold gently but tightly to wrap around the layers at the center.

Then bring bottom and top corners towards the center. Continue to fold gently but tightly around the layers. Make sure the rice is tucked in nicely. If you like the Onigirazu to showcase the ingredients after cutting in half, mark with a piece of carrot perpendicular to the ingredients (see video). Flip over and shape the Onigirazu gently. Wrap with plastic wrap tightly and set aside for 5 minutes.

Cut the Onigirazu with a sharp knife (following your "carrot" mark). Run your knife in cold water before cutting so that the cross-section will be clean. If you plan to make ahead of time, wrap the onigirazu with kitchen towel and keep in the refrigerator overnight. The towel will prevent rice from getting harder from cold air.

Recipe by Namiko Chen of Just One Cookbook. All images and content on this site are copyright protected. Please do not use my images without my permission. If you'd like to share this recipe on your site, please re-write the recipe and link to this post as the original source. Thank you.